Cameras able to zoom-in on wounds and enable face-to-face communication are aiding wound care healing for patients in the deep South.
Trials of telehealth Wound Nurse Specialist clinics began earlier this year to connect wound care patients at health centres in Balclutha and Dunstan with vascular surgeons at Dunedin Hospital.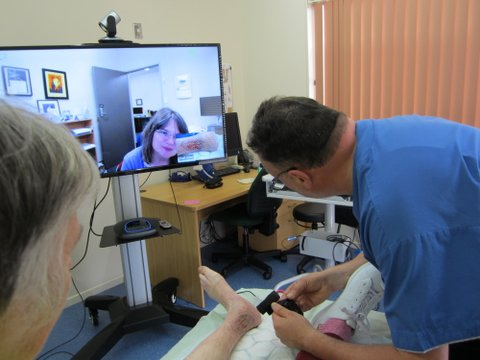 Emil Schmidt, the clinical nurse specialist who leads the monthly telehealth clinics, said the success of the clinics to date means the team hope to expand to other locations next year.
Wound care specialists like himself work with patients requiring the most complex treatment regimens  – like patients with diabetic ulcers or peripheral vascular disease – that need frequent follow-up assessments and adjustments to their therapy.
Providing care for such patients is particularly challenging when they live a distance from a secondary care hospital so the telehealth clinics, linked by video, can help specialists work with district nurses at the rural hospitals to help heal the demanding wounds.
The clinics video link with consultants via secure connections and both sites have shared access to electronic patient records, and specialist wound imaging, measurements and documentation system.
"We can directly communicate, face-to-face," said Schmidt. "We can zoom-in on the wound and make decisions together on the best approach to caring for the patient."
He said that patients appreciated the convenience of telehealth appointments and healthcare teams were equally pleased with the quality and efficiency of the appointments.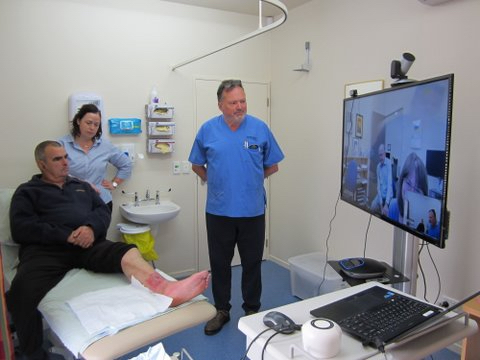 "In-person appointments are still a part of the patients' care plan but by providing these clinics we are able to reduce the number of times patients have to travel long distances. It also helps to free up appointments in outpatients clinics for first specialist appointments and other treatments for other patients, so everyone benefits," said Schmidt.