Tracy Black found herself advocating for Māori nursing students within hours of being elected the new chair of NZNO National Student Unit Te Rūnanga Tauira* in August.
The appointment of Tracy (Tūhoe, Whakatōhea and Ngāti Kahungunu) – who is in her second year of nursing study at Te Whare Wānanga o Awanuiārangi in Whakatāne – has come at a pivotal time for Māori nursing.
A more than decade long campaign to close the 25 per cent pay gap faced by nurses working for underfunded Māori and iwi health providers compared to their DHB colleagues is in front of the Waitangi Tribunal.
Māori nurses are to share their frustration and argue that the Crown's failure to address the pay disparity – despite repeated submissions on inequitable funding – is evidence of institutional racism in the health sector. Also pointing to the ongoing gap in health outcomes betweenMāori and non-Māori and the need to boost the Māori nursing workforce as an important step to help reduce the disparity.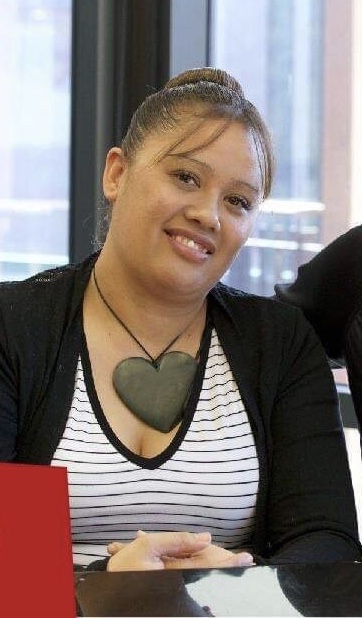 "Like it or not we are the future of nursing," says the new student leader. "Only a few hours
after I was elected Kaiwhakahaere Kerri Nuku organised myself and another to talk to two Ministry of Health representatives aboutissues that students faced, one which is what can be done to train more Māori nurses and then retain them. We will be going to talk to them again in Wellington soon."
Whānau heartbreak
Tracy's journey to studying nursing has been, at times, arduous. "I've seen first-hand the barriers Māori are faced with, when in hospital. My dad passed away recently (due to cardiac issues). He was my biggest supporter. I've met with some personal challenges on the way to achieving my dream of becoming a Māori registered nurse, but I know he will always be with me spiritually.
"Kei te hotuhotu te ngākau mou pāpā, a tonā wa ka tutaki taua ano. Moe mai ra toku pāpā I roto I ngā ringaringa o te Atua"
Her son was diagnosed with rheumatic heart fever at the age of 12 and Tracy spent three months at Starship Hospital with her boy.
"That's where I saw how amazing nurses are. I didn't know anything and they were so calm sitting day after day with us explaining what was happening."
Tragedy struck again when three years ago, Tracy's brother passed away from cardiac issues when he was aged just 41.
"It was the final push I needed. I decided then and there, that I didn't want any more whānau to pass away from illnesses that are preventable and treatable. If I can prevent one whānau from going through the heartache my whānau has been through, this would be worth more than any amount of money anyone could give me.
Inspired to study nursing
"I knew if I wanted to help my whānau I needed to get educated. When I looked into the possibility of studying again it was quite daunting because I was an older student, I had limited knowledge of anatomy and physiology, and it had been a few years since I'd left high school."
Tracy began a Te Reo Māori  course at Te Whare Wānanga o Awanuiārangi in 2015.
"That gave me the grounding and confidence to progress to the half-year bridging programme to nursing in 2016. I started in Te Ōhanga Mataora Paetahi – Bachelor in Heath Science Māori Nursing – in 2017.
"At my instituition Te Reo Me Ona Tikanga is a living, breathing part of our nursing journey it is just as important as the clinical skills we learn. Cultural and clinical competences are interwoven into our curriculum and are designed to 'inhibit' differences in ethnicity, this is the point of difference that our programme offers.
"Another key part of our programme as tauira (students) we are not just an ID number; we are real people who can talk and engage with our lecturers if we need any support whether it's academic, pastoral care, clinical support or just someone to confide in."
Cultural dimension
She says she looks at things from a Māori  lens – rather than from an outsider looking in at Māori. She says this is partly why Māori patients and their whānau  respond differently to Māori  nurses.
"Recently at a hospital, a Māori patient wouldn't touch their food. When I came in I saw there was a urine bottle near where their food sat. It was that easy and that profound."
Perhaps unlike many of those who step into more political roles, Tracy said she does not see herself as a leader. After people pointed it out she realised that people listened (to her) but it was with "a lot of encouragement" she "hesitantly" put her name forward.
"I have a strong voice that I can use to support and advocate for students. Prior to the election, I had been attending hui in Tauranga for Te Rūnanga, I sat and listened to, and was inspired by, Māori registered nurses encouraging and inspiring students to keep pursuing their dreams to become registered nurses."
Tracy is passionate about providing cultural support for nursing students.
"At the recent student hui a tau, multiple issues of concern were identified. One of those voiced was the withdrawal of/limited cultural support/services available to nursing tauira.
"I am reluctant to identify the schools that have removed cultural services as this could possibly affect the tauira that raised the issue. I can confim that only five nursing schools identifed that they have strong cultural support within their institutions.
"Tauira also identified another eight nursing schools where the cultural services offered were limited, or in fact, non-existent. I was saddened when one tauira said: 'If cultural services were to be removed no one would notice a difference'. It made me realise that the services we are offered at my instituition are not the norm."
"Chairing Te Rūnanga Tauira gives me the opportunity to support and advocate for nursing students to make a positive change. I have been able to listen and speak to delegates across the country to gather their views as Māori student nurses. I carry these views when I campaign, to make changes."
And the mother of four says that while her life experiences saw her dream about being a cardiac nurse, her dream now is to be a Māori registered nurse.
"I know the rest will fall into place from there. Where my people need me is where I'll go."
*NZNO's National Student Unit has two parts – the National Student Representatives (NSR) and Te Rūnanga Tauira (TRT). Dion Reid is Chair of the NSR and Tracy is Chair of TRT.