The 'Boy from the Bay' Dion Reid is keen to start advocating and supporting nursing students after recently being elected the Chair of the NZNO's National Student Representatives (NSR).
The National Student Unit has two parts – the NSR and Te Rūnanga Tauira (TRT). Dion is Chair of the NSR and Tracy Black is Chair of TRT.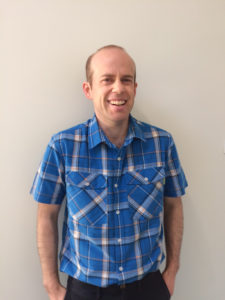 Dion moved to Hawke's Bay when he was five and now at the age of 34 he is in his second year of his nursing study at the Bay's Eastern Institute of Technology (EIT).
The mature student moved to Australia when he was 19 and spent time in both Brisbane and Canberra. He had many odd jobs but often found he was drawn to roles where he could help people. Including working for an organisation for the homeless – especially helping LGBT to find housing – where he was a listening ear, sorted issues for young people at home, and helped sort food and support for those on the streets.
Both his choice to study nursing and to put himself forward as a student representative come out of a desire to help people, and he says he's enjoying study as a mature student.
"It depends on the individual but for me the experiences I've built up before studying have been really useful. My strong impression is that for the overwhelming majority of those studying to be a nurse the money is tight. It appears to have improved for some with the increase in student allowances, but you have students doing a lot of paid work as well as a full timetable. Some of the students have children as well and that's a level of organisational skills you have to have on top of everything else. It's amazing how they are able to do it."
For Dion being male and a nurse is not an issue as it may have been in the past.
"When I walked into study on the first day there was a couple of other guys and we buddied up pretty quick. The women are also amazing to study with too. Other students say it's great to have a few guys around for the balance.  I tell people I'm a nurse and it tends to bring out (stories of other) nurses – they'll say "oh my uncle is a nurse" or they'll say "that's awesome"."
Dion loves the challenges and intensity of nursing study.
"I've really enjoyed my recent mental health placement, it was in Wairoa and it was fantastic.
"I also love all the critical thinking and all of the science. Recently we were looking at someone presenting to emergency and figuring out what questions to ask in what order – how do you prioritise? Nursing is about having to make an informed decision, a mix of doing and real brain work. You have to really understand exactly what you're doing because people's minds and bodies depend on it. It's complicated and it's complex."
Someone suggested he join the NZNO student union and he found there were lots of benefits to being a member.
"I enjoy doing advocacy work and you meet some real go getters in the NZNO. It's an amazing organisation to be involved with. My role is very broad – from liaising with staff to answering lots of questions to partnering with various organisations and chairing meetings. Amongst other matters, I'm interested to see what the Tertiary Education Commission (TEC) is doing with the Institutes of Technologies and Polytechnics (ITPs) Roadmap 2020. I want to advocate for what students need."
He was part of a student contingent who joined the rallies in Wellington during this year's NZNO DHB strike for better pay and conditions. He is also keen to work on improving nursing student access to health and welfare services.