MS Energise
The app aims to help people with multiple sclerosis (MS) manage their fatigue using research-proven cognitive behavioural therapy (CBT) principles. The interactive app includes a sleep tracker and an activity tracker. It has modules centred on areas that impact on fatigue – behaviour, thoughts, emotions, body (physiological), world (environmental) and future. Each module has an education section and self-management tips and techniques.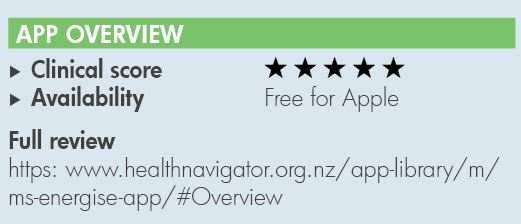 PROS include:
Easy to navigate and use.
Allows users to record their fatigue and energy levels.
Removes barriers to accessing CBT support.
Developed by a research project team from the Auckland University of Technology (AUT) and two UK universities.
The app is based on the project team's successful randomised controlled trial (RCT) into the impact of CBT on fatigue, including a pilot of online-delivered CBT.
CONS include:
Only available on iTunes as currently not available on Android.