Betty Jenkins, 80, is a nurse, grandmother and great-grandmother who doesn't believe in retirement.
She is a faith community nurse for her church, works on short-term contracts as a casual and relief review co-ordinator for home care organisations, and volunteers in Cambodia in her spare time. The registered general obstetric nurse still has an active annual practicing certificate from the Nursing Council and has been nursing for 58 years.
Jenkins trained as a nurse and midwife, delivering babies for 23 years before becoming divisional nurse manager of obstetrics at National Women's Hospital.
She was headhunted to set up home care organisations, and spent 20 years on the job. Home care organisations continue to contract her – and as long as the work keeps coming, she plans to keep going.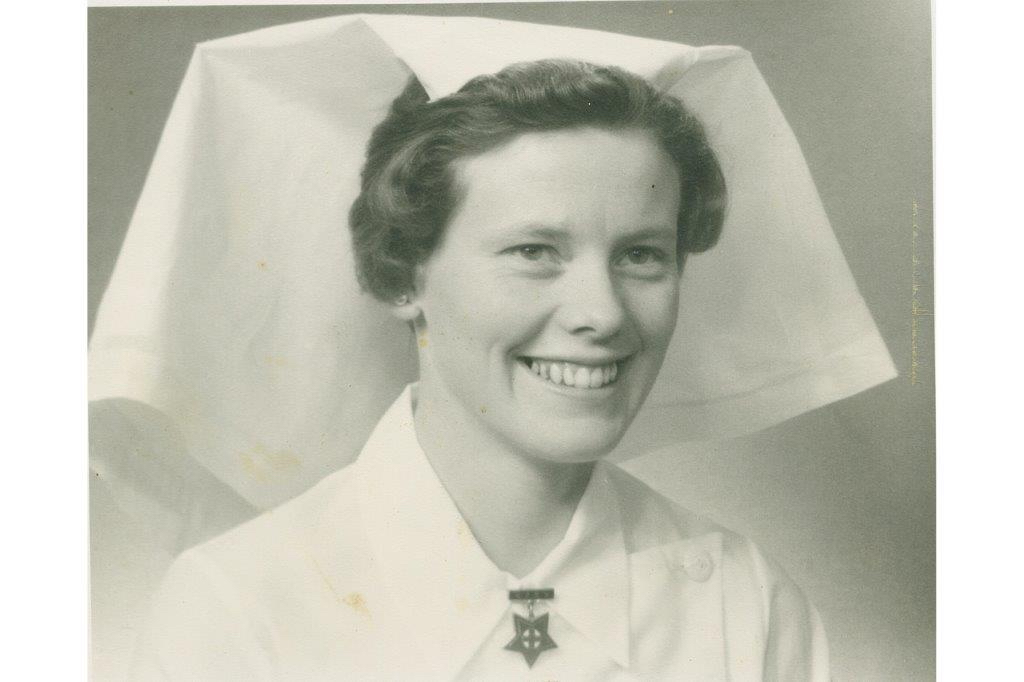 Betty Jenkins in the 1960s, practising nursing at a private hospital. Photo / Supplied
Jenkins credits her personal spiritual beliefs for keeping her working. "I never could find the word retirement in The Bible," she said.
"I think we've become programmed to think retirement is on a certain date … but we're living more healthily and for longer. Some people can't keep working, but as long as you can I think one should do so."
Jenkins also volunteers as a faith community nurse at her West Auckland church, promoting "individual and community health and wellbeing" through counselling, health checks and referrals.
She lives by the mantra of "use it or lose it".
"Quite often I've seen with elderly clients that if they stop work, the first two to three months aren't bad, but one day they wake up and what have they got?
"The problem is you have a job because you need money – but we have work because we need a purpose."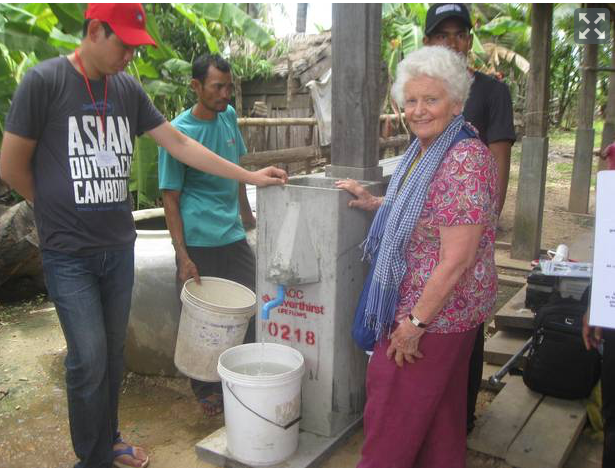 Jenkins at a water filter installation, set up in partnership with Never Thirst in a village in the Stung Treng Province, Cambodia. Photo / Supplied
In 1992, Jenkins went to Cambodia to volunteer with a non-profit group called Asian Outreach which was taking a mobile clinic along the Mekong River.
She has been back almost every year for at least three weeks, involved in community development, clean water and sanitation, and helping school kids get an education.
Last year she went to Cambodia three times; another trip is planned in October.
"I've decided I'll keep going if people ask me – the last two contracts they approached me and I'm happy to do it.
"But I told my family – please tell me if you think I'm losing it. I don't want to be a nurse that's a burden on anybody else."
Mike Griffiths, the pastor of Elim City Church in Auckland, where Betty is a member, values the health promotion events that Betty, as a faith community nurse, has led. One of the attendees at a health promotion event was prompted by Betty to visit his GP and is now receiving treatment for a newly discovered cancer.
Ian Yost of VisionWest Baptist Homecare has worked with Jenkins off and on for a decade. He said colleagues describe Jenkins as "a legend" – although she denies that.
"I think you don't become a legend until after you die. However I think what gives me some satisfaction is, if I've touched a life in some way that has benefited them, and enabled them to develop their potential, then that's a job well done."
BETTY'S TIPS FOR NEVER QUITTING WORK
Believe you're never going to retire – you'll always be doing something
Maintain a positive outlook at all times – but you will need to adapt as you get older. If there's something you can't do any more, do something else
Never stop learning or looking for new experiences
Change should always be welcomed as it stimulates the brain
Involve yourself with all ages across the spectrum
Healthy relationships are important for physical and mental wellbeing
Never lose your sense of humour