Sticking with nursing despite facing loss and grief within her own family and inner circle has won nursing student Awhina Tapiata a special award.
The third-year Ara Institute of Canterbury nursing student has won the Sacha McKnight Cup for 2017, which is awarded to a student showing tenacity and overcoming personal challenges to succeed. The cup was established by the family of young nursing star Sacha McKnight, who passed away during her first year of nursing due to cancer.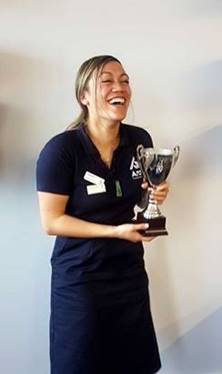 Tapiata, 26, has persisted in her nursing studies despite personal trials, including facing "incredible loss, grief and mental health-related issues amongst her own family", and dealing with self-harming and suicide attempts within her inner circle. She is currently in her final clinical placement at Hillmorton Hospital and wants to work in mental health in Canterbury, Wellington or Rotorua after sitting her state finals in November.
"I have seen the positive impact that mental health nursing can have and I want to be a part of that journey to wellbeing for others," said Tapiata.
"I absolutely love it [mental health]," she said. "I completed my second-year mental health placement at Hillmorton and I immediately knew that mental health was for me."
"Mental Health as a field of nursing is more aligned with my personal belief system, because it is essentially holistic. With a focus on therapeutic relationships, nursing in this field relies less on the biomedical model of health and more on the social model; [it's] more patient-centered. This is where I excel."
She said despite some challenging days and working with people who can be acutely unwell "there is nowhere else I would rather be".
Tapiata (Te Arawa/Ngāti Porou) said her nursing principles were nurtured by her upbringing in the world. She is a student member of Te Kaunihera o Ngā Neehi Māori (the National Council of Māori Nurses) and Ara's Māori Student Rōpu.
She once held aspirations to be a professional squash player and represented Bay of Plenty for most of her pre-teen/teenage years before heading overseas. On her return, she worked in administration and kōhanga reo, before moving to Christchurch with her family and starting nursing at Ara.
Tapiata said she was incredibly grateful for the support of Ara staff, who had been stronger advocates for her during her studies. "For example, when I was dealing with self-harming and suicide attempts amongst my inner circle, the team here continued to support and encourage my efforts," she said. Nursing school academic Anna Richardson said staff liked to see nursing students applying theory to practice and Tapiata had achieved that.
"Awhina has done so well and she is just glowing," said Richardson.